Dressing For The Snow
Dressing For The Snow appropriately for each place is essential, so you must consider the site you will attend when choosing a specific outfit. Consider the time of the event, especially the weather, because dressing on a sunny day is not the same as dressing in rain or snow. Of course, the weather or the weather forecast is a handicap to consider when dressing.
Tips For Choosing An Outfit For The Snow
You will want to wear hot clothes, but it is best to get rid of them once you are in a much warmer interior. That's why you have to dress in what grandma called "onion mode" to take off layers once you enter a more hospitable place, and thus you don't get overheated.
Under your jacket or jersey, you can wear thermal shirts and under the pants, for example, thermal tights. Once inside a house or restaurant, you can remove the outer garments and keep only the socks, thermal shirt, or jersey. In stores, especially sports, they have a wide range of thermal garments with very cool designs.
Wear Insulating Clothing For Moisture
You must choose waterproof clothing, both the case jackets and pants. Materials such as jeans are prohibited for a snowy day since this type of material absorbs water and is also very cold.
For jackets, it is best to choose the one that warms you the most. All jackets lined with sheepskin or feathers inside are the best option for a getaway to the snow.
Thick-Soled, Insulating Footwear
Choosing the proper footwear is one of the most significant things when spending a day in the snow and not turning it into hell. That is a boot made of insulating material, with a seam that prevents water from entering and if they are lined with sheepskin, like the classic ones, much better.
The sole should be thick so that the water does not enter your feet and insulate. An excellent thermal wool sock will do the rest. Or two if you are freezing! And if you're not, don't forget to carry others in your bag, just in case.
Warm Accessories
What better time to break out your beanie? And if it is lined inside, even better. Gloves, mittens and mittens are also a great idea, although if you plan to touch the snow, it is better to choose another material that is not wool, like those of skiers that are also lined inside and are super warm. Scarves, scarves and fur and wool collars are also highly recommended accessories when going to the snow.
You can also use earmuffs; you will find them very glamorous in stores. Oh! And of course, you should not forget sunglasses, ones made of excellent and polarized glass, because in the snow, like on the beach, the reflections of the sun's rays can be very annoying and harmful to your eyes. So better if the crystals are dark.
Looks Of Dressing For The Snow
One of the best options to go skiing, practice any white sport, or enjoy a day in the snow is to put on a down jacket and matching waterproof pants. It is best to choose them in a striking tone to avoid going unnoticed on the special day that awaits you.
Accompany the look of a warm wool sweater with a pompom hat in the same colour as the sweater, and you will have an outfit of 10. You will not be cold at all, and you will also be very comfortable. And you will not lose any of the glamour that characterizes you.
A Modern Look
One of the most modern looks to spend the day in a snowy mountain town is to wear black vinyl pants. Vinyl is a waterproof material, and it is also very chic. Of course, we recommend putting on thermal tights or leggings underneath, if the pants are not, to protect you from the cold.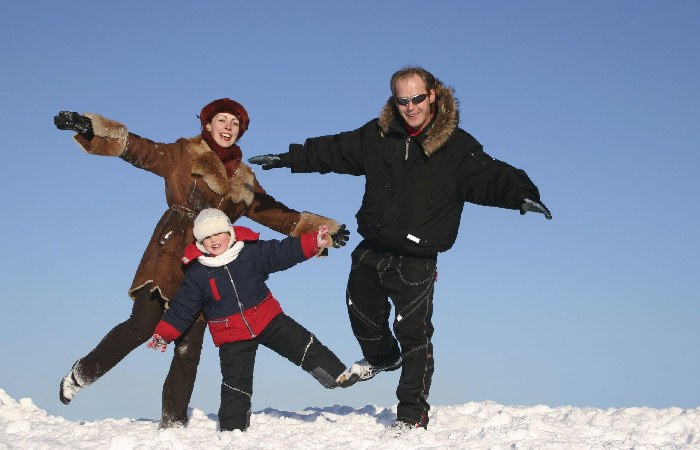 Combine the pants with a sweatshirt with a fleece lining or a black jumper. And finish your outfit with a beige shearling coat since they are so warm that you will be hot throughout the day. Good boots cannot miss spending the look.
Metallic Look
Do you want a chic look to enjoy the snowy mountain? Attention! Ideally, you should wear a silver or gold garment. The easiest thing is to get a feather in one of these colors, and you will practically have a metallic look done.
Combine your coat with hot thermal and waterproof leggings in black boots that protect your feet from isolating the cold from the ground. Good sunglasses will finish off the outfit and protect you from ultraviolet rays.
The Queen Of The Snow
As you know, white is the sweetest color of all. And looking at this tone, you will fully integrate with the beautiful landscape. Get some leather-coloured hiking boots, and wear ecru pants to match a fat wool sweater. A jacket with a fur lining and a wool hat will do the rest.
You can read more articles like How to dress to go to the snow: suitable and warm looks, in the Looks category in Women's Newspaper.
How To Dress Kids To Enjoy The Snow Without Getting Sick
With winter's arrival, many people want to go out and enjoy the surroundings that low temperatures give away. In this way, we must protect ourselves differently so that the common cold does not cause health problems, but fragility is different in each person. Therefore, in this article, we will focus on the little ones. This way, we explain how to dress children to enjoy the snow. With a ball fight and even a sledge, it becomes easy to have fun as a family.
How do you dress kids to enjoy the snow?
Do you know how to dress children to enjoy the snow? It is logical to be afraid when we know it is cold outside. If you don't protect yourself well, we know that health can be damaged, and we don't want the little ones to suffer these consequences. Therefore, this section offers tips so the house kings can have fun without fear in the face of the treasures that winter sometimes leaves us.
The Three-Layer Rule
The first, serving as a base, drains body moisture. The second will hold in the heat to insulate the body from the intense cold. Finally, the third layer will aim to protect against external water and wind. In case they get cold anyway, adding even more clothes is easy. Of course, their mobility mustn't be profoundly affected, as they feel that they cannot play properly.
Materials To Consider
When choosing the base layer closest to the body, it is recommended that it be synthetic or wool. Also, it should never be made of cotton. The reason for this is that this last fibre retains moisture efficiently since it absorbs it. It poses an increased risk of hypothermia. Other recommended materials are polyester, acrylic, and polypropylene. In addition to all the above, remember that cowboys should avoid the snow. The main reason is that they absorb water quickly but dry very slowly.
Outerwear That Is "Waterproof"
It means that the outerwear we choose must be waterproof but also breathable. You must be careful because some are "waterproof" but of lower quality. It is also advisable to treat these garments with a water-repellent spray. It is how we ensure that they are always in perfect condition, even when they come into contact with water. Of course, the outer jacket must cover the waist sufficiently to protect the torso, including the kidney area.
Socks And Boots
Good socks and boots are essential when dressing children to enjoy the snow. They must be 100% wool or a blend of wool and thermal synthetic material. Of course, the footwear must be waterproof, breathable and well-insulated. In addition, they should not be too tight. Otherwise, they can block the blood flow and thus prevent the heat in the toes.
Head And Neck
In addition to all this, we must not forget the importance of covering both the head and the neck. It not only keeps us warm but also avoids respiratory infections.
Gloves And Mittens
Gloves and mittens prevent the little ones from feeling too cold in their hands. Therefore, they must boast good waterproofing and sound insulation. Mittens are perfect for children. The reason is that they retain more heat inside. Of course, as they get older, they become more uncomfortable because they aren't good at handling themselves when it comes to grasping. Gloves must be attached to the jacket or at least to the wrist.
Conclusion
Playing in the snow is an excellent way for kids to spend a snowy day, make the most of the winter weather, get exercise, and have fun. Learn how to appropriately dress children before they go out in the snow to keep them warm and safe from severe problems like frostbite and hypothermia.
Also Read – Lip Fillers