Trending Styles – Spring may have been a little longer in coming this year, but the spring feelings are all the more substantial on the first lovely days. The perfect opportunity to unpack your summer clothes and get in the mood for the warm season with a fresh haircut. For inspiration, we present a few hairstyles that are particularly popular in 2022.
Bob Variants Are Trending Styles
The bob was already a big winner in 2021 and will remain with us this year. Whether you are in the team short bob, blunt bob or long bob doesn't matter. Regarding bob variants, almost all hair lengths and variants are well received.
Short Bob
With this bob variation, the ends of the hair mustn't protrude over the chin. Worn smooth, it looks exquisite. He can also be a little fringy.
Blunt Bob
The hair is cut to precisely one length – from short to medium size. Since it optically provides more volume, it is well-suited for fine and thin hair.
Long Bob
If the hair is longer than chin length and does not reach more than the collarbone, it is called a long bob. This haircut is exceptionally versatile and easy to style.
The Clavi Cut Is A Trending Styles
If the bob grows past the collarbone, it becomes the so-called clavi cut with the right cut. The hair is cut slightly longer at the front than at the back. This transitional hairstyle is particularly trendy this year because it is suitable for almost all hair types and every face shape. Another advantage is that the trendy hairstyle can be worn open as well as in a casual or elegant updo.
Center Parting And Voluminous Blow-Dried Hairstyles
Blow-dried hairstyles that create a decent amount of volume are also trendy. The middle parting is also back and draws a straight line through all generations. Both, in combination, provide that certain something with medium hair length. The side parting and XXL lengths are submerged this year. Will they make their comeback next year?
XL Bangs, Aka Curtain Bangs
For all those who don't want to do without their XXL mane and still want to wear a trendy hairstyle, curtain bangs could be the perfect alternative. A characteristic of this hairstyle is that it looks like a curtain. Curtain bangs are worn in the Centre, with the forehead section cut slightly shorter. This fringed fringe suits every hair type and visually stretches the face.
Pixie Cut
Back to short hairstyles. The combination of bob and pixie, the so-called pixie cut, is one of the hair trends for 2022. This year it is particularly popular with long top hair and very short sides, as it is exceptionally versatile.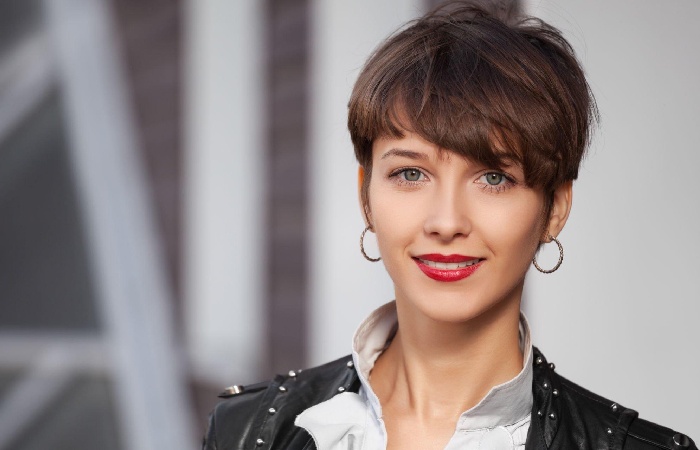 Does It Have To Be A Trendy Hairstyle?
Of course not. Hair trends serve as inspiration for all those who want to breathe new life into their hair. The most important thing about any new haircut is that you are comfortable with it. Are you ready for a major hair makeover? Then we recommend that you get good advice beforehand. Our top stylists can tell you exactly which hairstyle suits your face type and how you can perfectly recreate your new look at home. It is best to say to us when you call which haircut you are currently wearing and what changes you have in mind so that we can find the perfect stylist from our team for you. All details will be discussed at your appointment.
Box Braids
Box braids hairstyle is one of the best and safest styles that are great for giving your hair a break it needs. Unfortunately, when it comes to several celebrity hairstyles, so many of them that trend for a while and eventually lose trend while a few others stand the test of time.
This cute hairstyle creates an elegant, stylish and confident look and is also the favorite among celebrities.
The box braid has been a trend for a long time, but as popular as it is, it takes a lot of focus and commitment to gain the knowledge to do this hairstyle.
Get To Know Your Box Braids
If you are a fan of social media, you will find that this hairstyle keeps returning to Instagram. Box braids are plaited plaits whose origins lie in Africa and date back a thousand years.
Interestingly, this hairstyle has not changed since it was created a thousand years ago. That is why she is and remains the pride and beauty of African culture.
What Box Braids Look Like
Box braids are hairstyles that have multiple strands of braids spread all over the head. The box, part of box braids, plays a role in the parting technique. Various square patterns are used, but it should be understood that this is not mandatory. There are two patterns: knotless braids and traditional braids.
Knotless Box Braids
With this pattern, the extended sections of natural hair are worked into the roots without creating knots. Over the years, knotless braids have become very popular, and there is now a familiar favorite among many box-braid customers.
Traditional Box Braids
This pattern wraps the natural hairline with the extended section of hair, creating a knot extension at the hair's scalp.
Conclusion
Trending Styles – Box braids are a must-have hairstyle that is all the rage these days, and people from all walks of life love to wear them. After reading this article, you now have a basic understanding of everything. Knowing about box braids and the application process is necessary before going to your next hair appointment.
Also Read – Dry Fingernails