Dry Fingernails
Getting caught in a knitted sweater or gloves with a torn fingernail – who knows it? Pretty uncomfortable! Even the most beautiful manicure suffers when the fingernails are brittle and splinter. Especially in winter, dry and splintering nails are an issue for many. And that's precisely why we have put together the best tips against brittle fingernails for you.
Dry and brittle nails are the result of too little moisture. They're most commonly caused by the repeated washing and drying of fingernails. On the other hand, soft and brittle nails are caused by too much moisture, often a result of overexposure to detergents, household cleaners, and nail polish remover. Here we go!
Dry Fingernails Due To Vitamin Or Mineral Deficiency?
If your nails have been noticeably sensitive for a long time or very suddenly, or if they keep splitting, there could be a vitamin or mineral deficiency. Nail changes can also have health reasons. However, before you stock up on dietary supplements on the off chance, a blood count should be taken first.
Because a healthy and balanced diet often makes dietary supplements superfluous. Above all, nutritional supplements should not be taken without an existing deficiency. Often the nails also splinter because environmental influences damage them.
Dry Fingernails Due To External Influences
Especially in winter, skin, hair and nails are exposed to stress. Dry heating air and long showers or baths remove moisture from the natural nail. Frequent hand disinfecting with alcohol-based solutions or cleaning without household gloves removes additional fat from the skin and nails. But what helps with brittle nails?
Do not shower or bathe for too long
Cream hands carefully after washing or disinfecting hands
Apply nourishing nail oil daily and massage into cuticles and natural nails
Always file natural nails from the outside to the middle
Never move the nail file roughly back and forth
Use a high-quality glass nail file that won't roughen the nail
Use acetone-free nail polish remover
Care Products For Dry And Brittle Nails
If you regularly wear nail wraps or polish, the nail plate is better protected from degreasing substances such as washing-up liquid or shower gel. Use the time between two manicures for an extensive fingernail wellness program.
After removing the nail foil and base coat, apply our intensively caring nail oil to the natural nail and cuticle and gently massage in the nail oil. It is best to let the rich nail oil work overnight. It allows the luxurious plant-based oil mix and the nourishing shea butter to be absorbed well.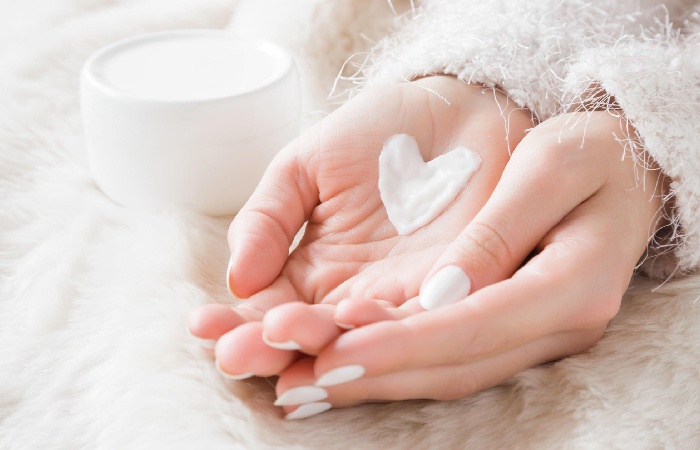 You can use our moisturizing hand cream as an alternative to nail oil. Precious organic argan oil conjures up velvet paws, gives the fingernails a lot of moisture, and has a moisturizing effect. Don't forget: Before the next manicure, clean the nails with our gentle remover so that the nail foils last extra long.
Nail Polish Hack For Dry Fingernails
We all probably know how to apply nail polish properly. On the other hand, this hack against brittle nails is a real beauty insider: Apply nail polish like our base coat to the nail plate and the nail edge. It seals the natural nail and prevents water, cosmetics or cleaning products from penetrating the nail. It is best to repeat this trick with our top coat when you fix the freshly applied nail foil.
Nail Foils Instead Of Gel Nails For Dry Fingernails
Unlike many nail trends, such as gel nails, the natural nail does not have to be roughened with a file before sticking our nail foils on. In addition, the nail wraps can be easily removed with our gentle remover and do not have to be removed with a file, which can damage the nail plate again and make it thinner. If you have susceptible nails, we recommend our Base Coat. It protects and strengthens your natural nails while smoothing out slight grooves.
There Is A Cure For Beautiful Fingernails
According to estimates, every fifth woman complains about brittle, splintering or brittle fingernails. Many factors can be considered as the cause. Calcium or iron deficiency can lead to increased fragility, as can hormonal changes during puberty, pregnancy or menopause. In addition, external influences – such as frequent contact with water or other skin-damaging substances – cause the nail plate to dry out so that it loses its elasticity. In addition, the natural ageing process can lead to dehydration of the nails because the ability to bind water often decreases with advancing age.
Active ingredients such as panthenol and phytantriol, which are contained in the nail balm Onyx, give the nail plate the necessary moisture. At the same time, the chitosan that is also held combines with the keratin of the nail plate and forms a protective layer against damaging external influences. Incidentally, the cuticles also receive an extra portion of care, which reduces their spread on the nail plate. As a rule, a four to six-week treatment is enough to make the nails elastic, shiny and resistant. Very practical for the on-the-go: Onyx is not only available in a 10 ml bottle but also as a functional brush pen for the on-the-go.
Dry Fingernails – It Depends On The Right Care
In order not to unnecessarily strain brittle fingernails, you should observe the following tips:
Do Not Use Metal Files
Sandpaper, Plastic Or Glass Files Are Much More Nail-Friendly
Always File From The Outside To The Center – Never Back And Forth
For Shortening, The Coarse Side Of The File Is Gentler Than Nail Clippers Or Scissors
If you paint your nails frequently, it is better to use acetone-free nail polish removers, which are much gentler. While conventional nail oils have a caring effect, they prevent the nail polish from sticking firmly when you apply it immediately afterwards. Here, too, Onyx has proven to be the ideal base: the nail balm dries quickly, evens out small bumps and protects the nails from the drying effects of varnish and varnish remover.
Do Dietary Supplements Help With Dry Fingernails?
If there is a biotin or iron deficiency, dietary supplements can help. In studies, it was observed above all that the nails of people who took 2.5 to 10 milligrams of biotin via dietary supplements could grow back better and thicker. In scientific studies, taking nutritional supplements with magnesium, zinc, or calcium was unable to improve.
Taking 2.5 grams of bioactive collagen peptides over six weeks helped promote healthy nail growth. In addition, the study participants suffered less often from brittle nails. Bioactive collagen peptides help stimulate collagen and keratin formation in the nails. It should reconnect the loose bridges of the skin cells.
What Helps Against Dry Fingernails?
Some tips you can follow to help your nails grow back better and reduce the frequency of brittle nails:
Apply lotion to your hands and nails regularly, so they do not dry out.
It is better to use acetone-free nail polish remover
Wear work gloves when washing dishes or cleaning.
Care for your nails gently, and do not file your nails roughly.
Applying 70 per cent glycolic acid can make nails thicker.
Creams with a five per cent content of tea tree oil can have a supportive effect.
Conclusion
Nails are one of the significant parts of the body. Healthier nails are a sign of a healthier person. You can treat the affected area with medicated nail polish if you suffer from nail fungus. However, this treatment takes several weeks, sometimes even months, since the fungus is under the nail and the active ingredients cannot penetrate the nail immediately.
Also Read – Best Yoga Exercise To Improve Flexibility