Introduction
Normal Heart Rate – The heart is an essential organ of the human body. Therefore, pulse and pulse rate is a necessary measure of health. A pulse is a tactile arterial palpation of the heart cycle (heartbeat) through the pads of medically trained fingers. The pulse rate can be used to evaluate general cardiovascular health and fitness. Although lower is generally better, bradycardia can be dangerous. Weakness, energy loss, and fainting are signs of a dangerously slow heartbeat.
What is a Normal Pulse Rate?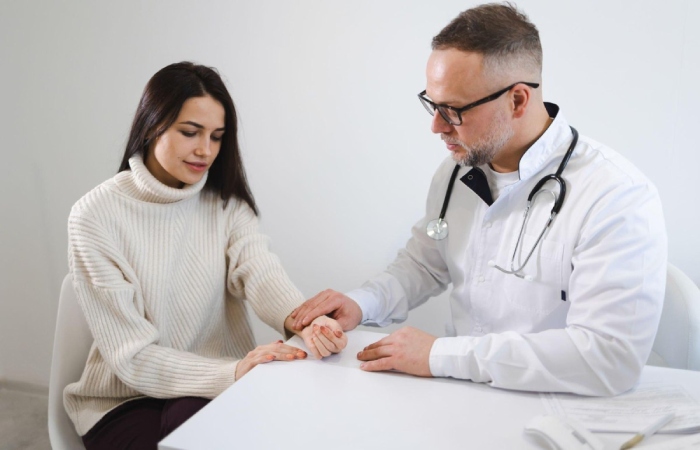 The pulse or heart rate is the number of times our heart beats in a given time, and we should not confuse it with blood pressure, measured with a blood pressure monitor. The pulse is generally expressed in beats per minute; 65 beats per minute means that our heart beats 65 times in one minute. As the experts affirm, in a healthy person, the heart usually beats rhythmically, and the pulse rate should be in between 60 and 100 beats per minute.
However, it is also true that the pulse changes throughout the day since it depends on our activities. For example, slower pulse rates are expected at rest, especially if we are asleep. In contrast, the pulse speeds up during physical exercise or when we suffer from strong emotions such as fright, fear, anxiety, or great positive emotions. It is also important to note that the heart rate is usually slower in athletes, being normal.
Normal Heart Rate for Men and Women
Adults should have a resting pulse of 60 to 100 beats per minute.
A lower resting heart rate indicates better heart function and cardiovascular fitness. For example, a well-trained athlete would have a resting pulse of about 40 beats per minute.
Measure your pulse to determine your heart rate. First, place the index finger and ring finger on the side of the trachea in the neck. Next, place two fingers between the bones and the tendon above the radial artery on thumb side of the wrist to check the pulse rate. And count the heartbeats for 15 seconds when you feel your pulse. Then, calculate your beats per minute by multiplying this number by four.
There is a wide range of normal heartbeats that depend on various factors. Excessive or low pulse rate may, however, indicate a problem. If your resting pulse is permanently above 100 beats per minute (Tachycardia), or if you are not a trained athlete and your resting pulse is below 60 beats per minute (bradycardia), consult your doctor, particularly if you have other signs or symptoms such as fainting, dizziness or shortness of breath.
The Rhythm of The Normal Heart Rate
The rhythm and strength of a regular pulse are consistent. However, sinus arrhythmia, ectopic beats, atrial fibrillation, paroxysmal atrial Tachycardia, atrial flutter, partial heart block, and other conditions can cause an irregular pulse. "intermittent heart rate" refers to the steady drop in heart rate. For example, bigeminal pulse and second-degree atrioventricular block are intermittent regular (regularly irregular) pulses. Atrial fibrillation is an example of an erratic irregular (irregularly irregular) pulse.
How to Know If a Person has Tachycardia?
In general, Tachycardia triggers the following signs and symptoms:
Feeling of a fast, pounding heartbeat or pounding in the chest (palpitations)
Chest pain.
Fainting (syncope)
Daze
Accelerated pulse.
Shortness of breath.
The Role of Exercise in Normal Heat Rate

Vigorous exercise is the best way to lower the resting heart rate and then increase your maximum heart rate and aerobic capacity. Because it's impossible to maintain a maximum heart rate for more than a few minutes, physiologists have recommended setting a target percentage of your maximum heart rate during exercise. When you begin an exercise program, you should set your target pace at 50% of your maximum and gradually increase the intensity of your exercise until you reach 70% or 80%.
How to Lower Your Normal Heart Rate
Practice deep or guided breathing techniques, such as Box Breathing.
Relax and try to stay calm.
Take a walk, preferably away from the urban environment.
Take a warm relaxing bath
Do yoga for relaxation exercises and practice stretching
Perform vagal maneuvers.
Conclusion
In my content, I want to describe that the average rate is the number of times our heart beats in a given time, and we should not confuse it with blood pressure, measured with a blood pressure monitor. As per the experts, it should be between 60 and 100 beats per minute
Also Read: Calorie Calculator