Laser Hair Removal – After the experience report on the laser treatment of my facial redness, treatment report number two follows today. This time it's all about permanent laser hair removal. I will now tell you what this treatment is all about, how it works, and all the information worth knowing.
My Experience With Laser Hair Removal
In addition to shaving and epilating, I have already tested hair removal with IPL, which only produces visible results very slowly. And since I am very impatient, the laser treatment for permanent hair removal was just right for me! Hair removal using a diode laser is currently the most modern and effective way to remove hair on your legs, bikini area, back, etc. Christian and I have come a long way towards our hair-free project today after three successful treatments.
How Does Diode Laser Treatment Work?
The diode laser is very gentle and can quickly treat huge areas such as the legs or back. The laser beam penetrates the tissue, and the thermal reaction destroys the hair root. The skin remains wholly untouched and spared. However, since this photo epilation only reaches the hair in its current growth phase, several treatments are necessary because all hair never grows simultaneously.
Which Body Can Regions Be Treated With The Diode Laser?
I decided to have the laser treatment on my legs, armpits and bikini area. Christian lets you laser the entire stomach and chest area; separate sites on the back are also made hair-free. I want to emphasize that laser treatments are not possible on a tattoo. Among other things, Christian has a massive tattoo on his stomach and chest, which he covers during the treatment. More giant moles must also be covered by the beautician beforehand.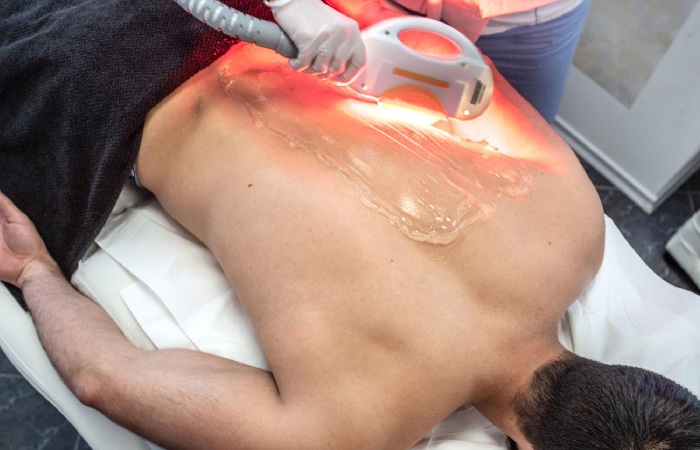 It doesn't matter whether you want to have your lady's beard lasered, your upper lip and chin hair-free, or decide on your intimate area and buttocks – no area cannot be treated with the hair removal laser. A consultation will bring more detailed information!
Before the treatment, a cooling gel is applied, and tattoos and birthmarks are covered.
What Do I Have To Consider Before Laser Hair Removal?
It is essential to have a thorough shave before treatment. It is best to do this the day before the laser treatment so that the skin is not irritated. By the way: The laser only works on hair roots still in the skin. That is why you should neither epilate nor pluck your hair a few weeks before the treatment.
How Long Does Laser Hair Removal Take?
Of course, this depends entirely on the areas to be treated. In general, I can confirm that hair removal is done very quickly. So you could also make a beauty detour to the beauty salon during your lunch break. For the armpits and the bikini zone, you can count on about 10 minutes. Legs, depending on the circumference (I mean lower or thighs), take an average of 15-20 minutes.
All in all, a complete treatment (lasering armpits, bikini area, legs) takes about 25 minutes for me. Preparing and post-processing the skin takes almost more time.
How Many Laser Treatments Are Required?
On average, laser treatments need to be performed 5-7 times. That depends entirely on your hair growth and the areas to be treated. The treatment is repeated about every 4-6 weeks. The number of sessions required for complete hair removal depends on the body part and skin type. One additional session per year is generally sufficient to ensure that you stay hair-free (keyword: hormonal changes).
Is Diode Laser Hair Removal Painful?
Hair removal with the diode laser is relatively painless. A cooling gel is applied before the treatment, allowing the laser to glide more gently over the skin. You feel a slightly warm feeling that is felt more intensely in bony areas than in others. However, the higher the level of the laser is set, the warmer it can handle. But all this can be endured because the laser only touches the skin for a few seconds.
However, you should make sure to shave thoroughly. With slight stubble or sloppily shaved areas, it can sometimes tug. But even if there is a tug, the treatment with the laser itself is, as already mentioned, done very quickly. The following cream soothes the skin, prevents irritation and makes it nice and soft. In the personal conclusion, you can find more information about the treatment at the end of my beauty post.
What should I consider after laser hair removal?
After laser hair removal, you should make sure to avoid direct sunlight. Solarium visits are also taboo! Therefore, I think laser treatments for a hair-free life are ideal in spring, autumn and winter. Christian and I take an 8-week break from therapy during the summer months, after which we continue at regular intervals of 4-6 weeks.
Conclusion
The hair generally grows slower and, above all, less. The effect is evident on the legs because I'm "blotchy" here. That means there are already hair-free areas, but in between, you can still find isolated areas where hair grows. It's the same with my armpits, but with the plus point that I only have to shave every 2-3 weeks. The bikini zone has currently made the best progress for me. Only very fine, few hairs grow here, which should be gone entirely in the following 1-2 treatments.
Also Read – Sage Green Nail