Hair Care Tips – Flyaway hair, split ends and frizz, dull colors, and, to top it all off, a dry scalp – the list of hair care annoyances that we deal with in everyday life is particularly long in the cold season. Even if you prefer to keep your hat on some days: We feel you. And we also know how liberating it can be to come out of the cold, shake out your hair and know everything is fine from root to tip.
So that you can show your mane self-confidently and from its most beautiful side in the winter months, we have put together five tips for a hair care routine in this article that relieves the scalp and hair in the cold months without restricting your styling.
Hair Care Tips In Winter – You Need To Know That
We don't owe the vast majority of bad hair days in winter to the cold but to the fact that skin and hair dry out quickly in the cold season. Admittedly, that sounds counterintuitive: we've gotten out of the summer heat. What on earth is going to dry us out now?
Do Not Wash Your Hair Hot But At Most Lukewarm
The colder it gets outside, the more pleasant it is to feel the warm water on your skin early in the morning or before bed. It's just that your hair finds a hot shower far less relaxing than you do. It starts with the scalp: if you wash it with hot water, you remove the natural oils that protect it from drying out.
If dry heating air is added to this in winter, your skin is doubly stressed, which can have two annoying consequences. If your scalp feels dry, it naturally becomes greasy – very quickly and violently. The resulting excess oil not only robs the roots of any volume but is distributed throughout the day, even in length.
Also, the more you wash your hair hot, the harder it will be for your scalp to keep up with touch-ups. An itchy scalp then joins greasy hair; at some point, your skin is so exhausted that it begins to flake. Woman with red hair – Okogie your hair a chance to regenerate before exposing it to the cold.
Don't Leave The House With Damp Hair
If you leave the house with damp hair when the temperature is below zero, the freezing water affects two areas: the roots of the hair and the lengths. As the water expands around the hair root, it pushes the scalp aside and leaves the most sensitive part of the hair structure unprotected. At the same time, the lengths become inelastic and stiff due to the freezing water. In our latitudes, this may not immediately lead to hair breakage, but your mane will become dull and brittle in the long run.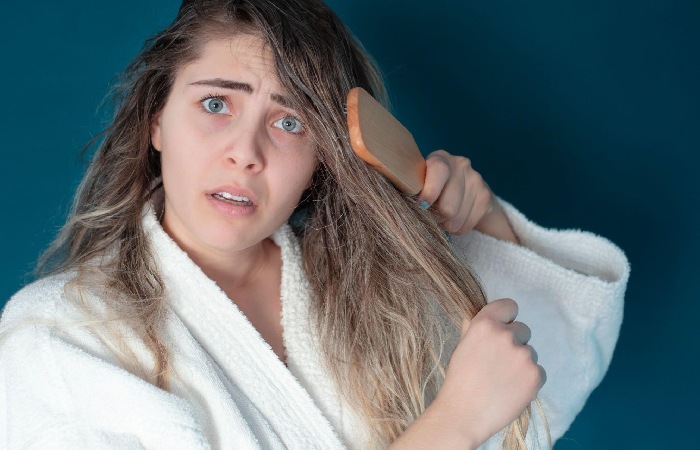 So if you're in a hurry after a hot shower now and then, that's no big deal. It just shouldn't become part of your daily routine. A warm winter hat is also an absolute must-have. It protects your scalp and allows you to simply tie long hair into a braid and push it underneath instead of reaching for the hair dryer at the last second.
Heat-Free Your Hair Regularly
Whether hair dryer or straightening iron: Whenever we expose our hair to great heat, there is a risk of drying out. To preserve the natural beauty of your mane, it is even more worthwhile to reduce heat stress in winter, even if you may have to restructure your beauty routine a little.
It begins with the choice of gentle styling methods. Use conditioner to prevent frizz, experiment with paper papillotes and show off your natural hair structure. Curling irons and straightening irons are by no means taboo. Just make sure to pre-treat your hair with a heat protectant spray and give it at least 24 hours of heat after Sleek Ponytail and Curls to allow it to recover.
The most significant heat damage in everyday hair care also occurs in a completely different place: After all, we use the hair dryer much more often than the straightening iron – especially in winter. And it dries not only your hair but also your scalp. A relaxed blow-dryer setting can help here, but it also takes a little longer to dry your hair. So that you don't get stressed in the morning, it is best to postpone washing your hair until the evening in winter.
Go For Dark Hair Colors
Even if your heart beats for platinum, ice blonde or trendy silver-grey: In winter, natural hair colors and dark tones have a clear advantage because lightening color treatments also dry out your hair severely. The darker the natural color and the lighter the blonde, the longer it will take for your mane to recover. Women with blond hair – Iolite hair colors have a hard time in winter – at least when dyed.
Suppose your favorite hair color is significantly lighter than your natural shade. Therefore, it is worth switching to gentle tints for the winter months or developing a particularly conscious beauty routine. As with straightening irons, the same applies to dyeing: If there is a lot of rest and care between the individual treatments, your hair can recover well even in winter. And you can quickly get the time you need for this.
If you opt for a dark blonde, the contrast between natural roots and dyed lengths will be soft. On the contrary: if you stage the look with a loose braid or bun, it becomes a simple fashion statement that goes well with cosy chunky knitwear in light, natural colors.
Conditioner And Silk Are Your Winter Wonder Weapons
Do you also fear that moment you take off your cap and have to limit the damage first? As crucial as warm headgear is for your beauty routine in winter: Textiles with a roughened surface – and yes, this unfortunately also includes the softest cotton – don't go well with your hairstyle because every little movement of your head creates friction between hair and hat.
As a result, curls quickly become brittle and, worst case can also become knotted, while acceptable, smooth strands become electrically charged. Two involuntary winter looks we all know and hate, right? The good news: All you need to put an end to this is a good conditioner and a silk towel.
Both flying hair and the nasty knots under the cap only occur when the hair is dry. A moisturizing conditioner can therefore make all the difference for curls. However, fine and straight hair still needs a second protective layer: a soft cloth that prevents friction and, thus, electrical charging. So tie a silk scarf around your hair before you put on your hat – and flying hair is a thing of the past.
Conclusion
Hair Care Tips – Intensive care like this is an absolute must in the cold season, but it can only restore your hair's resistance and shine if your mane is allowed to rest in peace. Therefore, combine a fixed weekly deep care appointment with a styling routine that is as gentle as possible. And should you forget the little care tips and tricks in the stress of everyday life, always remember: This is no reason to get angry, but an excellent reason to call out an additional self-care evening with a clear conscience.
Also Read – Beauty Vitamins