More and more people are discovering CBD Oil for their hair. Can CBD even help against hair loss? Below we look at what makes CBD so valuable for hair and whether CBD can be used as a remedy against hair loss makes sense.
What Is CBD?
If you already know CBD, you can skip this paragraph. For all others: CBD stands for cannabidiol. It is a natural compound in the hemp plant that contains only a tiny amount of THC. Therefore, CBD is not psychoactive. For example, if you smoke CBD or take it as an oil, you will not experience the high.
CBD is booming all over the world. It is mainly because CBD appears to offer many health benefits. Initial studies suggest that CBD could help with anxiety, insomnia, depression or epilepsy, among other things. But can CBD also be beneficial for the hair?
CBD And Hair
More and more people are using CBD oils or shampoos enriched with CBD. It is mainly due to three CBD properties:
CBD Contains Amino Acids
Who doesn't want soft, straight hair? If your hair feels strawy and looks dull, a few drops of CBD oil can help. It is mainly because CBD contains 21 amino acids.
CBD Contains Antioxidants.
Antioxidants can keep hair strong and healthy. It is mainly because antioxidants protect against free radicals. CBD is rich in antioxidants such as vitamins A, E and C.
CBD Contains Fatty Acids
Whether omega-3, omega-6 or omega-9: CBD contains many valuable fatty acids. These fatty acids give your hair moisture, among other things. Therefore, when the scalp absorbs the fatty acids, it could stimulate hair growth.
CBD And Hair Loss
So CBD has some ingredients that can be useful for healthy hair. But can CBD even work on hair loss? There are no scientific studies on this yet. The following properties could against hair loss help: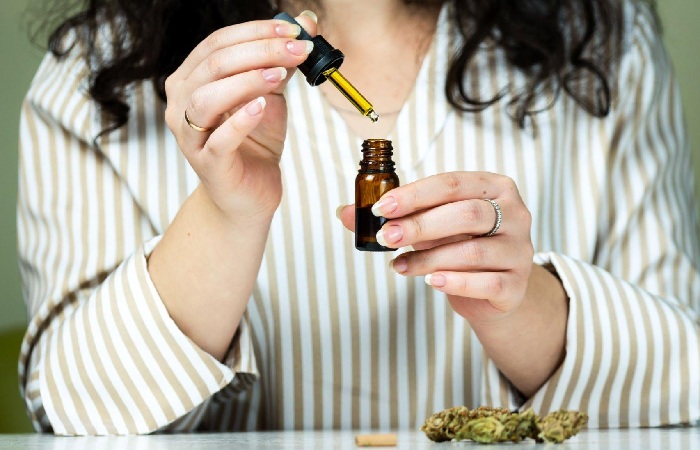 CBD oil can increase blood circulation. Applying CBD oil directly to the hair follicles can provide valuable nutrients and reduce harmful toxins. It could stimulate hair growth.
CBD oil has an anti-inflammatory effect. It can reduce inflammation on the scalp and allow for a healthier environment for hair growth. It could be beneficial if the reason for hair loss is dandruff, seborrheic dermatitis, or severe dandruff.
CBD oil can relieve anxiety and worry and improve sleep. It is well known that stress and poor sleep can also lead to hair loss. Therefore, CBD could help with hair loss by lowering cortisol levels.
All of this theoretically makes CBD a promising hair loss remedy. As already mentioned, CBD has not yet been sufficiently scientifically investigated as a treatment for hair loss. It is also likely that although CBD supports the scalp, it will not be sufficient on its own as a treatment for hair loss.
Hair Loss Due To Stress And Hormonal Changes
In many cases, hormonal fluctuations and stress are the causes of hair loss. Women can experience severe hormonal fluctuations during pregnancy or menopause. It can lead to hair loss. If hormonal changes cause hair loss, CBD oil could be a good solution.
CBD acts on the receptors on the nerve cells responsible for hormone regulation. As a result, this cannabinoid can help restore hormonal balance. It can potentially reduce hair loss and promote new hair growth.
Stress also hurts scalp health. Stress can cause a lack of nutrients. As a result, your hair will not grow properly. CBD is known for its calming properties that help you cope better with stress and tension. CBD can also help reduce anxiety. It allows you to relax better and be more accessible. If you have less to do with focus, all nutrients are available to the body again. And you can see that in a full head of hair.
CBD Oil Stimulates New Hair Growth
Is your hair thin, or do you suffer from bald spots? CBD oil can stimulate new hair growth. CBD is rich in omega-3 fatty acids, which help lock in moisture and nourish the hair cuticle. So it's a good idea to massage the scalp with CBD oil regularly. Research also shows that dry skin absorbs nutrients better and promotes hair growth.
Another way CBD oil promotes hair growth is by stimulating blood circulation. Improving blood flow around the hair follicle brings more nutrients, and harmful chemicals are cleared. Of course, this has a positive influence on hair growth.
Conclusion
Whether CBD oil can help against hair loss has not yet been proven. One thing is sure, CBD is unlikely to harm your hair and scalp. CBD's unique natural properties enable sensible hair care and contribute to healthy and full hair. This system is present throughout the body and means the CBD can do its job where needed.
Also Read – Blue Zone Fitness